Economists have warned that Britain faces another painful interest rate hike to try to bring it back down double-digit inflation.
Inflation has been above 10% since last summer and the latest data released this week from the ONS revealed it stubbornly remains there at 10.1%.
This bolsters the case of economists who say more interest rate rises are likely to get inflation under control.
Official data published this week shows stronger than expected growth in wages, of 6.6%, added to market expectations that rates will rise, with fresh fears that they could hit 5%.
Mortgage holders have been hit by a series of interest rate rises as the Bank of England attempts to bring spiralling price hikes under control.
Interest rates are currently at 4.25%. They were expected to peak at 4.5% and fall back toward more normal levels next year. But after the Office for National Statistics said inflation in March remained in the double digits – defying economists' forecasts it would dip to 9.8% – traders ramped up bets interest rates would increase.
The central Bank's monetary policy committee was already expected to push the rate up to 4.5 per cent next month. Now markets expect the level to reach 5% by the autumn.
The shock figure also raised questions about Rishi Sunak's promise to halve inflation by the end of the year. The prime minister has made it one of his five key priorities for 2023 to bring inflation under control to "ease the cost of living and give people financial security".
Grant Fitzner, ONS chief economist, said: "The main drivers of the decline were motor fuel prices and heating oil costs, both of which fell after sharp rises at the same time last year.
"Clothing, furniture and household goods prices increased, but more slowly than a year ago.
"However, these were partially offset by the cost of food, which is still climbing steeply, with bread and cereal price inflation at a record high."
The ONS revealed food prices increased by 19.1% year-on-year, the highest increase since August 1977.
Fitzner added that it was possible that food prices could continue to rise for at least one more month.
"We're at 19.1% so it's possible. Germany saw their food prices up 22.3% and there's quite a number of European countries who've seen higher rises than the UK, so it is certainly within the realm of possibility but we don't forecast this."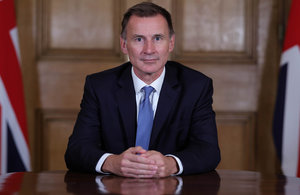 Jeremy Hunt
Kitty Ussher, chief economist at the Institute of Directors, commented: "Business remains extremely concerned by the rate of inflation and wants to see it under control.
"While it is a relief that the headline rate of inflation is now pointing downwards again, following the surprise rise last month, the Bank of England's job is not yet done."
Jeremy Hunt, the chancellor, said the latest data reaffirms "exactly why we must continue with our efforts to drive down inflation" in a bid to ease pressure on families and businesses.
"We are on track to do this – Office for Budget Responsibility forecasting we will halve inflation this year – and we'll continue supporting people with cost of living support worth an average of £3,300 per household over this year and last, funded through windfall taxes on energy profits," Hunt added.