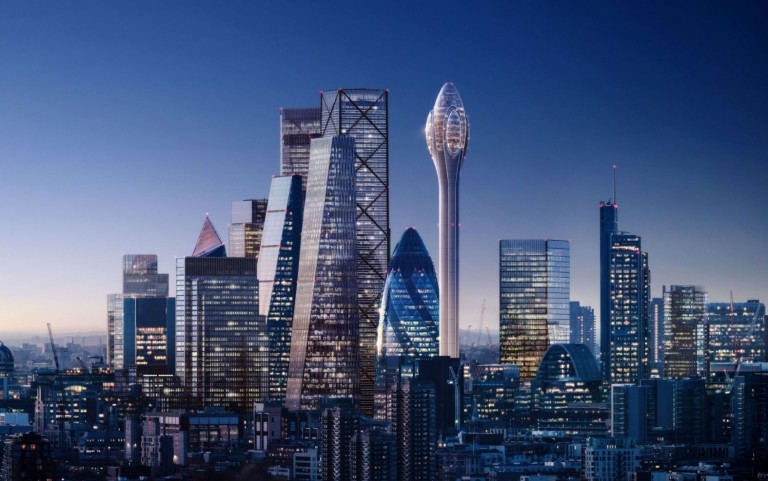 London's skyline is to be transformed by more new towers in 2019 than in any other year in the capital's history, research reveals today.
A record 76 buildings of 20 storeys or more are scheduled to be completed by the end of December, more than three times the total for last year, according to the annual "headcount" of London skyscrapers.
The buildings are scattered over London, with 19 of the capital's 33 local authority areas seeing at least one tower completed.
The biggest clusters are in Tower Hamlets, where 18 will be finished and Lambeth with 11.
The findings, in New London Architecture (NLA) and GL Hearn's sixth annual London Tall Buildings Survey, show that the rate of delivery has reached unprecedented levels.
Skyscrapers being finished this year include 22 Bishopsgate and 60-70 St Mary Axe — dubbed the Can of Ham — in the City.
Others include Nine Elms Point in Lambeth, Chelsea Waterfront at the former Lots Road power station site and the Embassy Gardens towers in Wandsworth.
The total number of towers — from the pre-planning stage all the way through to completion — is also at a record high, standing at 541 at the end of 2018, up from 510.
The number under construction is a record 121 buildings, up from 115 in 2017. Buildings of more than 20 storeys are under construction in three boroughs — Camden, Barnet and Hounslow — for the first time.
Peter Murray, chairman of NLA, said: "Tall buildings are becoming increasingly accepted as a necessary form of urban development, not just in commercial centres like the City or Canary Wharf, but to provide much-needed new homes right across the capital."
But campaigners against tall buildings said the findings were "heartbreaking".
Barbara Weiss, director of the Skyline Campaign, said: "If you look down the river it's horrific, if you look at the City of London it's horrific. You can't get away from these towers."
Jules Pipe, deputy mayor for planning, regeneration and skills, said: "London continues to grow and with this comes a number of challenges.
"Located in the right place and designed with their surroundings in mind, tall buildings have a role in meeting the needs of our rapidly expanding city."
Via Homes & Property