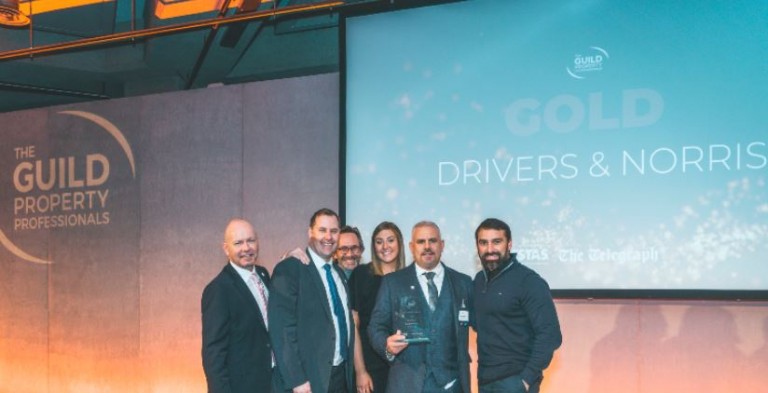 The Guild of Property Professionals Member, Drivers & Norris was presented with 3 Awards at The Guild Awards ceremony, which was held at QEII Centre in Westminster, London on 12 February 2020
The Guild Awards were presented by former British Special Forces soldier, adventurer, best-selling author and television presenter, Ant Middleton and Iain McKenzie, CEO of The Guild, after a full day at The Guild Annual Conference, where new strategies, services and plans were revealed to keep Guild Members at the forefront of the industry. Estate agents also heard an inspiring keynote address from Ant Middleton, as well as several other speakers and property industry experts.
The Guild Awards were sponsored by The Telegraph, who commented: "As the UK's best-selling quality daily newspaper, The Telegraph is looked to by its readers as a trusted source of expertise. It is therefore fitting that we are able to celebrate excellence in the property industry by sponsoring The Guild of Property Professionals Awards."
The Guild Awards 2020 were also presented in association with The ESTAS, a customer review and awards platform exclusively for property professionals. The ESTAS are awarded based on customer surveys regarding the agent's service – these scores heavily influence the decision of The Guild Awards judging panel when selecting winners.
Drivers & Norris were proud to be chosen to receive Gold London Sales, Gold London Lettings and Silver Overall Letings, which was collected by Scott Hailou on stage at the QEII Centre in front of nearly 500 estate agents.
"We are thrilled to be recognised for our hard work and dedication over the past year. This award is a culmination of our efforts throughout the last 12 months and a symbol of our commitment to excellence within the property industry," said Scott Hailou, Director of Drivers & Norris.
Iain McKenzie, CEO of The Guild of Property Professionals, said: "The Guild Conference and Awards is a much-anticipated annual fixture on our calendar, and this year's event lived up to the expectation. As only the best-in-class agents in each region can be selected to be Guild Members, the Guild Awards are truly a prestigious honour recognising the best of the best. As an organisation of like-minded property professionals, it is fantastic to be able to share knowable, gain valuable insight and of course, celebrate excellence within our network. Congratulations to all agents and offices that received awards this year, and all the best for 2020."